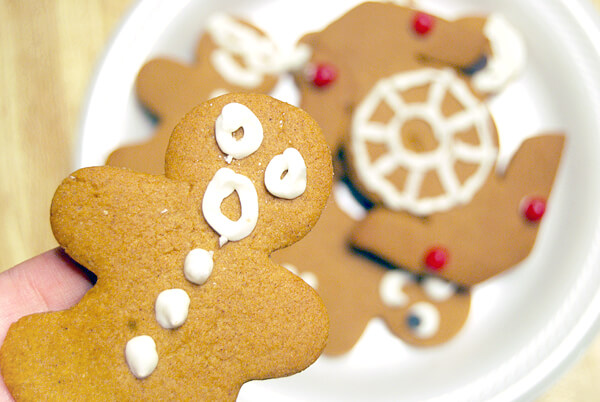 This was my face when I saw Kristen's Me Myself & I post. Has it really been a month already? Is Christmas really NEXT week? Is this YEAR seriously almost over already??? Where does the time go?

1. What was your favorite gift given to you as a child?
My favorite gift as a child was actually a birthday present, but my birthday is early January so I often think about it this time of year. There was a man at church named Kevin. One summer when I was a teenager, he promised to buy me some cantaloupe from the farmer's market but he forgot. Then he said he would get me some peaches and he forgot, and then some apples but forgot. He eventually said that he would get me some fruit for my birthday and I was all "suuuuuure you will hahaha". Well, sure enough, Kevin showed up at our door on my 17th birthday with 3 grocery bags FULL of every single type of fruit he could find!! It was amazing! It's one of the sweetest things I've ever received.
2. Christmas is almost here, what is that one Christmas song you could listen to on repeat?
I love the song Sleigh Ride, but it has to be a super fast jazzy version of it. People who sing that song slow should be slapped.
3. What are a few of the items on your Christmas list this year?
I haven't really been wanting anything this year. I'm more feeling like I have too much and I need to seriously declutter my house. BUT my husband got me something that I've wanted my whole life! A bow! With arrows! Three of them. (But Shaun lost one in the back yard haha) It came last night and I grabbed it before he had time to hide it. It's awesome!!
4. Do you and your family have any special holiday traditions? Explain.
Since we've been married, every year we get new photo ornaments, one for us and one for each of the kids. In 20 years our tree is going to be COVERED in pictures of our family. I haven't gotten them for this year yet, and I actually just put the pictures in the ones from last year like a week ago..
5. Which do you prefer: wrapping paper or gift bags? Why?
I definitely love wrapping paper. Gift bags are nice too, and you can reuse them which is a bonus. But I love wrapping gifts and seeing them all piled up under the tree.