Want to see some AMAZING photos?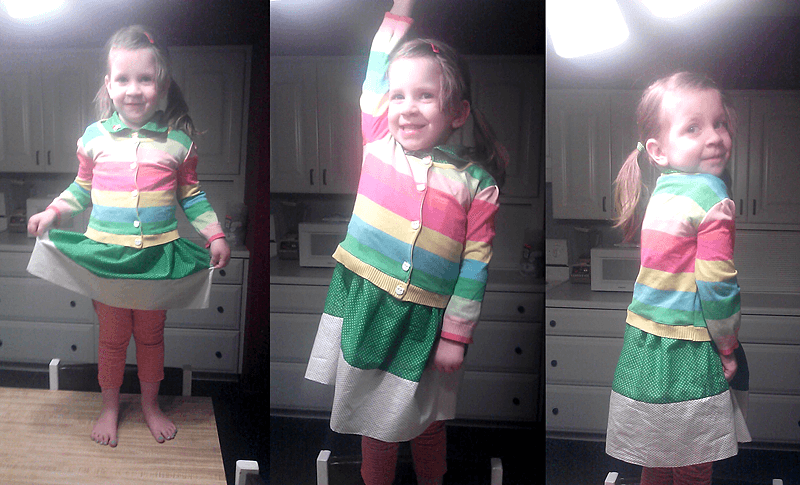 Well you'll have to look somewhere else because this is the best I've got today! Last night I finished sewing the buttons on my sew along submission for Project Run & Play. I love stripes and polka dots! So I was excited to join in this week. Anyway. So, Juniper super loves her outfit. And she was being extremely cooperative with the whole picture taking thing. (I may have bribed her with a lollipop.) She let me brush her hair all pretty and even asked me to do her nails. (The polka dots where her idea.) The whole time we were getting ready she was talking about how she wanted me to take her pictures, "Mommy, first I want to do a silly face like this. *silly face* Then I want to smile nice, and then I'll turn around so you can take a picture of the back." Her cuteness kills me sometimes.
Long story short, I left my memory card at work and spent an entire hour searching everywhere for one to use. No love! I had to settle with some wonderful cell phone pictures. Juniper was a good sport, she did all of her poses, just like she said she wanted to. (The "silly face" shot is the one with her hand up in the air.)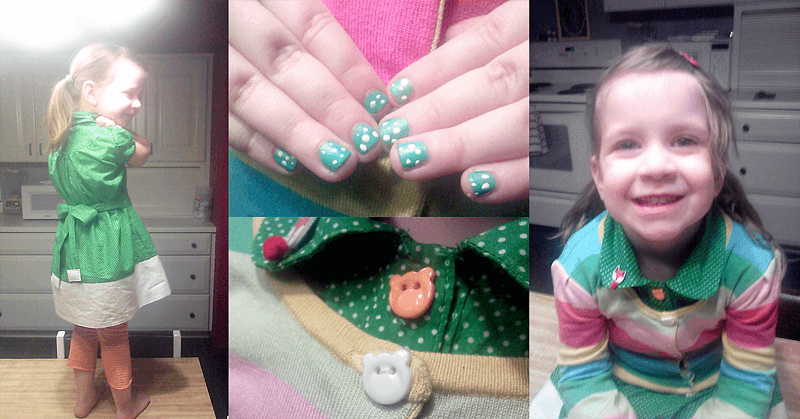 There really isn't anything exceptional about this outfit. It is all made from upcycled clothes: the dress is from a bigger dress that was way too small for me, the cardigan was also from one of my cardigans that I have had for YEARS and never wore, and her orange striped leggings are made from an old t-shirt. The plan was to make the dress a shirt, but Juniper wouldn't settle for a shirt. She is a dresses kind of girl. She's been asking to wear this dress every day since before it was even finished.
This morning when I got in my car to head to work, I found a memory card on the passenger seat.. Of course. Why didn't I think to search the car too??? Ha!