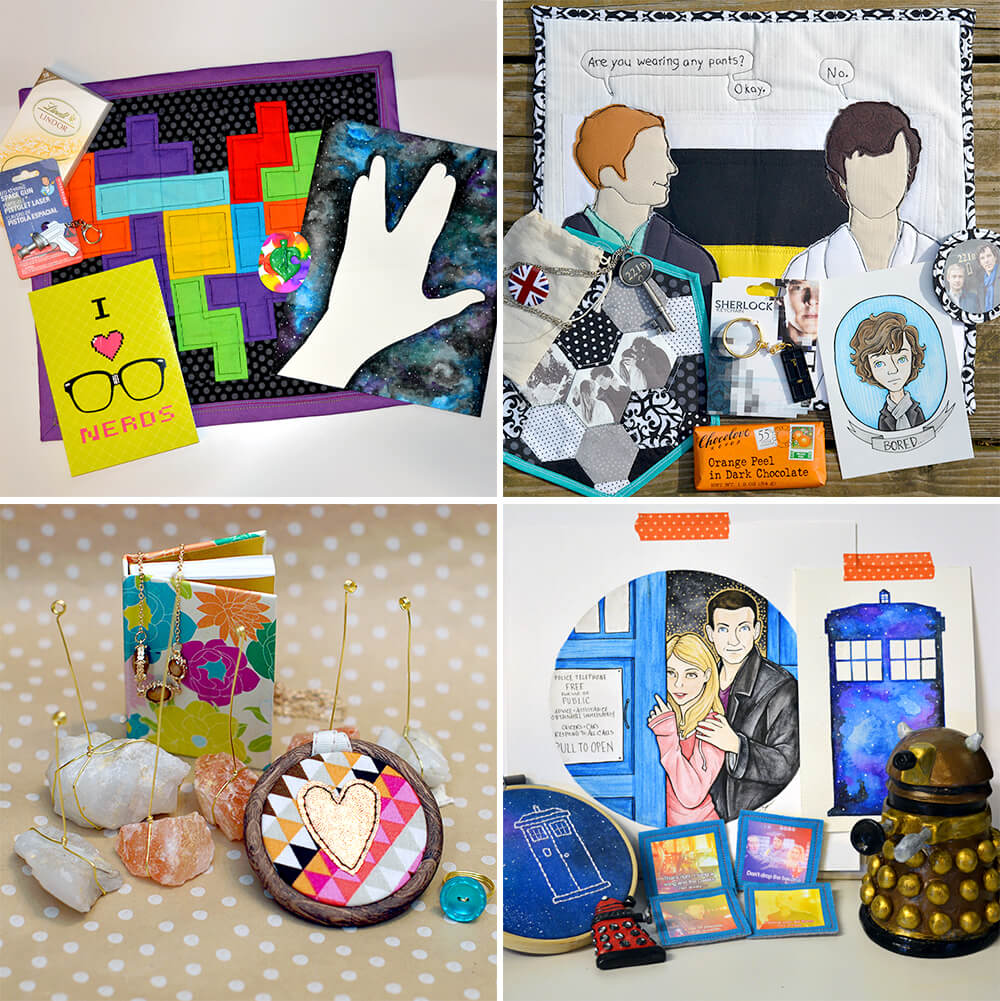 I've found myself sort of obsessed with Instagram craft swaps lately. And by obsessed I mean I've signed up for about a dozen different ones. I love making things for other people, and I love getting fun handmade things in the mail! So really, there is nothing not to love. Occasionally you do end up getting stiffed… There were two swaps last year that I never received anything for. Oh well, I figure that's just part of life. I'm really more of a gift-giver to be honest anyway. It's kind of my favorite thing.
When it comes to which swap has been my favorite, I can't decide between the Sherlock one and the Doctor Who one. Both of those were so much fun to work on. I pretty much wanted to keep everything from both of those swaps. In fact, I made extra Sherlock quilts so I COULD keep one! I have plans to make myself a Dalek as well. You can't tell from the photo, but the Dalek is a little jar! His head is the lid. I LOVE how he turned out.
The next swap on my list is a Fairy Tale mini quilt swap. I'm kind of in love with mini quilts at the moment and I have plans to cover one of the walls in my sewing room with them, so I signed up for a few mini quilt specific swaps. I'm particularly excited about the Muppet swap, and the Whedonverse one. Fraggles and Firefly make me happy. (Especially when they are combined! Wembley is totally the Fraggle version of Wash.)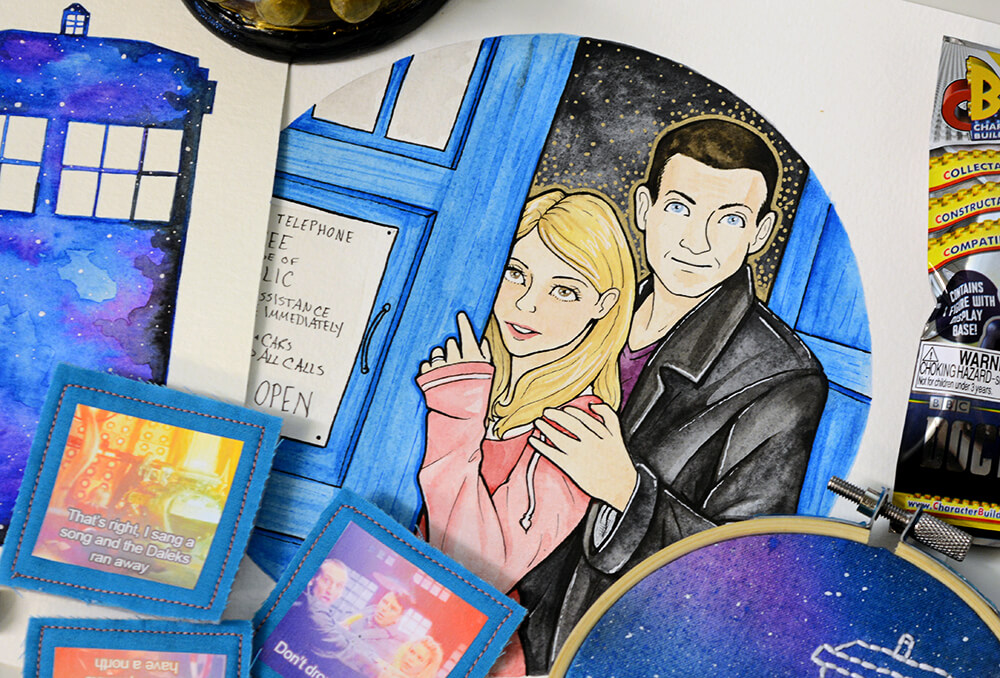 I'm quite fond of the painting I did of Nine and Rose for the Dr. Who craft swap. I was super excited when my partner listed Nine as her favorite doctor because I adore him. Ten is my favorite doctor, but I'll always have a soft spot for Nine since he was my first doctor. Actually, technically Ten was my first doctor because the first episode we ever watched was "Don't Blink", but we didn't watch another episode for yeeeeears. Plus, Ten isn't even in that episode all that much. I think Nine's regeneration is the saddest because I so was not ready for him to go. It took me a long time to warm up to Ten, but ended up falling pretty hard for him. I never really LOVED Eleven. I liked his stories alright I suppose. I feel like they relied too much on big fancy special effects and the stories were just so-so. Honestly, I haven't watched enough of Twelve to have an opinion on him. I should probably fix that, but I haven't had time to get caught up.
Anyway, my point is I love Nine and Rose and I'll definitely be printing a copy of this painting to hang up somewhere in my house. Not sure where yet… I've got a Firefly wall in the kitchen and a Star Wars wall in the living room, but I don't have a designated Dr Who wall anywhere.