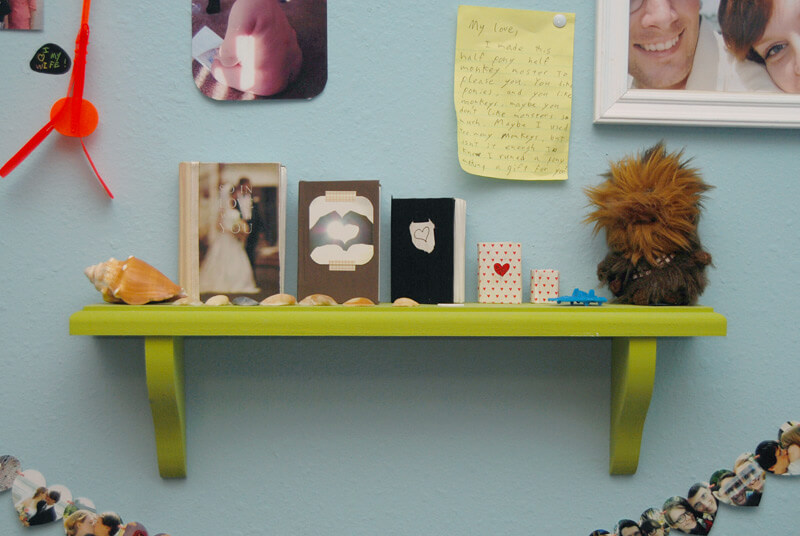 Tiny little books make great gifts. I've made lots of them for Shaun, usually for anniversaries or 'just because', but they would work great for Valentine's Day too! We keep ours displayed on some shelves in our bedroom, along with a bunch of other random tidbits that remind us of… well, US. Like that awesome little photo heart banner I made this week! I'll share more pictures of our lovey wall soon, since I know some of you will want to see it. (*ahem* Cindy)
A LONG time ago I put together a book binding tutorial. You can find it here if you really want to. (Would anyone be interested in an updated, more in depth tutorial?) And there are a lot of great tutorials out there for more simple approaches. (Here is a great one from A Beautiful Mess, and here is a nice roundup of some other ideas on Creme de la Craft.) OR you could totally just buy a cute little notebook and fill that up.
Ok, one more tutorial because I just love this one from Design Love Fest.
Most of our tiny books are filled with "I love you"s and heart doodles. These two are quite tiny. I made a smaller one at one point, but it has since disappeared. Not surprised.
I'm pretty sure I made Shaun this book for our one year anniversary. I printed a bunch of pictures from our wedding itty bitty and taped them into this book with double sided tape. We had a tiny wedding, it only makes sense that our only wedding album should be tiny as well. Also, the shells on this shelf (except the big orange one) were taken from the beach the day we were married. AWWW.
Tomorrow I'm going to share more details on my favorite little book! It's special and deserves it's own post.