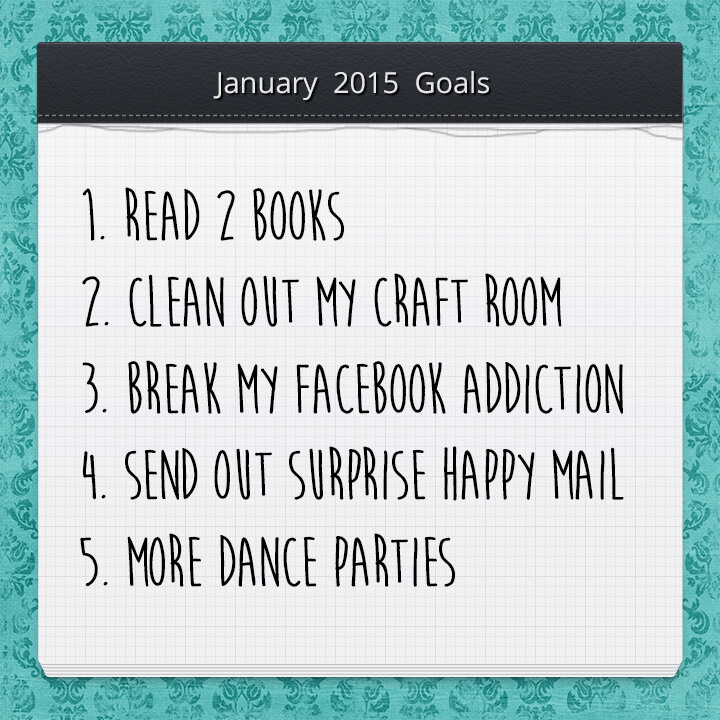 Happy New Year!
I'm not much of a 'New Year' girl. I've just never been into the whole thing. I was crazy super tired on New Year's Eve, so I went to bed around 9 or so. And we spent our New Year's Day eating Taco Bell and watching hours of anime on Netflix. (I swear I'm an adult.) I do like lists and goals though, and having a new year to start fresh is always nice. I've decided to start making monthly goals for myself. Things that are easily accomplished and fun. (That way I might actually accomplish them!)
1. Over the past few years I've been slowly getting back into reading for fun. I used to read a LOT, but kids and work and life… You know how it is. A few years ago I made a goal to read 3 books, last year I bumped it up to 6. (I know, I know. Big goals here.) This year I'm going to try to read at least 1 book per month, or more! I'm already halfway through this month's first book, so I'm going with 2. And it will help that my mother-in-law got me a KINDLE for my birthday!!!!!!!! (Thanks Jane!)
2. This…. needs to happen so bad. Right now that room, hiding in the corner downstairs with the door shut at all times, looks like a bomb has gone off in it. I'm not even kidding, it is the worst it has ever been. I don't even know where to start! I'll post of a before and after picture when I'm finished.
3. Do you ever just find yourself checking Facebook even though you JUST checked Facebook 3 seconds ago? And it's not even like I post all that often, my fingers just seems to constantly be clicking the Facebook tab randomly. I don't even like Facebook! I need Facebook rehab.
4. I love making things for people and sending out random surprise happy mail. It makes me happy. So my plan this year is to send out one happy mail package every month. It'll be fun!
5. One of my favorite things ever is when a movie is over and the credits start rolling and both kids jump up off the couch and yell "DANCE PARTY!" Do you dance to the credits music when you watch movies at home?? DO IT. It's the best thing ever. Juniper and Flynn have the best ever dance moves. I'm voting for WAY more dance parties in our lives.
And that's that. Goals are fun.
Now it's time to go eat the best pizza ever with one of my besties! She's in town wrapping up things with her old apartment, just in time for a birthday lunch date! I'm going to be 30 tomorrow. I'M SO OLD.