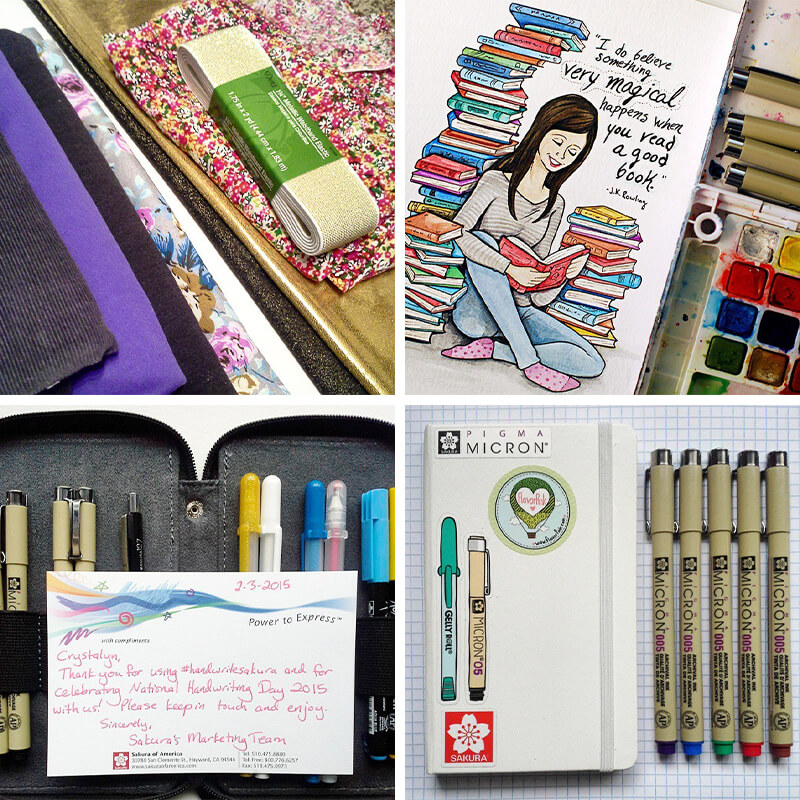 A few really neat things have happened on Instagram lately. First off, I was chosen by Jennifer from Jennuine Design sent me a copy of her new Haven Acres Mini Collection to try out. I've finished sewing the Dressage Leggings, and Juniper has declared them her "new favoritest pants ever". Which didn't surprise me at all, because I used the shiniest golden fabric I've ever seen to make them and that girl sure loves her some golden. I'm almost done with the blouse and I've got the Sweet Pea Cap pieces all cut out. I'm going to finish up the outfit tonight so I can get some photos taken this weekend.
The next amazing thing, I still can't believe happened. I had just finished up this painting for my friend Lia when I heard about a contest that Sakura of America was hosting on Instagram. The contest was celebrating National Handwriting Day, and to enter you had to write something on a piece of paper and tag it with their hastag on Instagram. Easy enough. And since I had just finished this illustration, I went ahead and added it to the tag. Out of over 700 entries, mine was one of the 14 chosen to win an amazing prize pack filled with tons of fun new art supplies! I'm sort of a Sakura fangirl. I use their Koi watercolors, gelly roll pens, and of course their micron pens can't be beat. And now that I've tried the sample sent in the prize pack, I'm dying to get my hands on a set of Koi Watercolor Brush Pens. (This set in particular. Look at all those swoon worthy colors!) I am in love with the travel case the pens came with. It fits perfectly in my new camera bag's front pocket.
The other neat thing that happened was Leuchtturm reposted this image I had posted of the Leuchtturm1917 Pocket Notebook I won in the handwriting contest. The image on their page has gotten 925 likes! I've started using the notebook to make plans for my "creative business", like planning blog posts and brainstorming up fun new illustration ideas. I definitely need more stickers for the front of my notebook though.
This is going to sound really dumb, but all of this neat stuff has made me feel more like a real artist. My head has always been a mess of creative ideas, but I feel like the dust is settling and I've finally figure myself out. That probably doesn't make any sense, but just go with it.