Day 101
This picture cracks me up. Juniper spent the night at Oma and Opa's house, and she picked these flowers for Oma from their garden. (She didn't want her picture taken, can you tell?) She also brought me home a nice big bag of asparagus. Mmmm!

Day 102
Juniper came home from Oma's house with some fishing poles that Opa is letting her use! He even put together a tackle box for her. It was starting to rain a little, but that didn't stop Juniper and Daddy from playing with the poles a little. They had fun casting off the deck, and Shaun MIGHT have gotten the line stuck in a tree.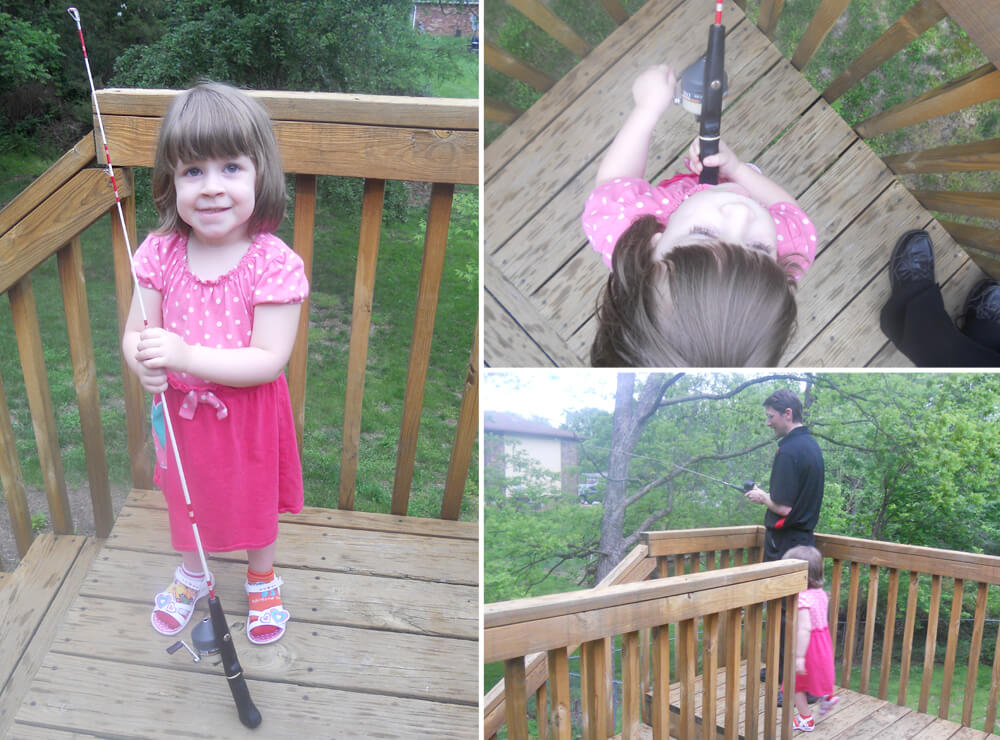 Day 103
We went to Hermann for a visit today and stopped by the lake to play with the fishing poles some before we headed home. There was a lot of fence climbing and cow pattie avoiding going on! Juniper kept saying to watch out for "the creepy mud", I didn't bother explaining to her that it was cow poop haha!

Day 104
Juniper and I started a little landscaping project today. There is a little garden in our front yard by the road that is very overgrown. we started pulling up the weeds while Flynn sat on a blanket nearby. Then we all hung out for a while enjoying the nice breeze.

Day 105
Today I packed up a picnic dinner and we went for a walk. The plan was to walk down to the water fontain by the shops on Cherry Hill, but there was a little league game going on so we stopped and watched that instead! Juniper really wanted to join in the game. I told her maybe when she was bigger. She rode in the basket of the stroller the whole way home.

Day 106
When Shaun was mowing the lawn today, he found what seems to be a bunch of strawberries growing under the deck! I was taking pictures of them and Juniper wanted a turn so I let her use my little camera if she promised to be extra careful. I love how much she enjoys taking pictures.