I feel like I've made a breakthrough with our Go Outside challenge. For a while there it felt like things weren't as exciting, like the whole project had lost it's wonder. But last week I found a few websites that are amazing resources. (I'll share some of them soon!) One website in particular that caught my attention is Famiglia&Seoul, because Gina is doing the same 365 Days Outside challenge as we are! She used to be a 4th grade teacher, so browsing through her blog made me realize just how much potential this whole project has for learning. Now that I've started thinking of our backyard as more of a classroom, my mind is bursting with ideas! My Pinterest boards are filling up with inspiration. (Gina has some great ones.) And I'm really, really excited about some things I have planned.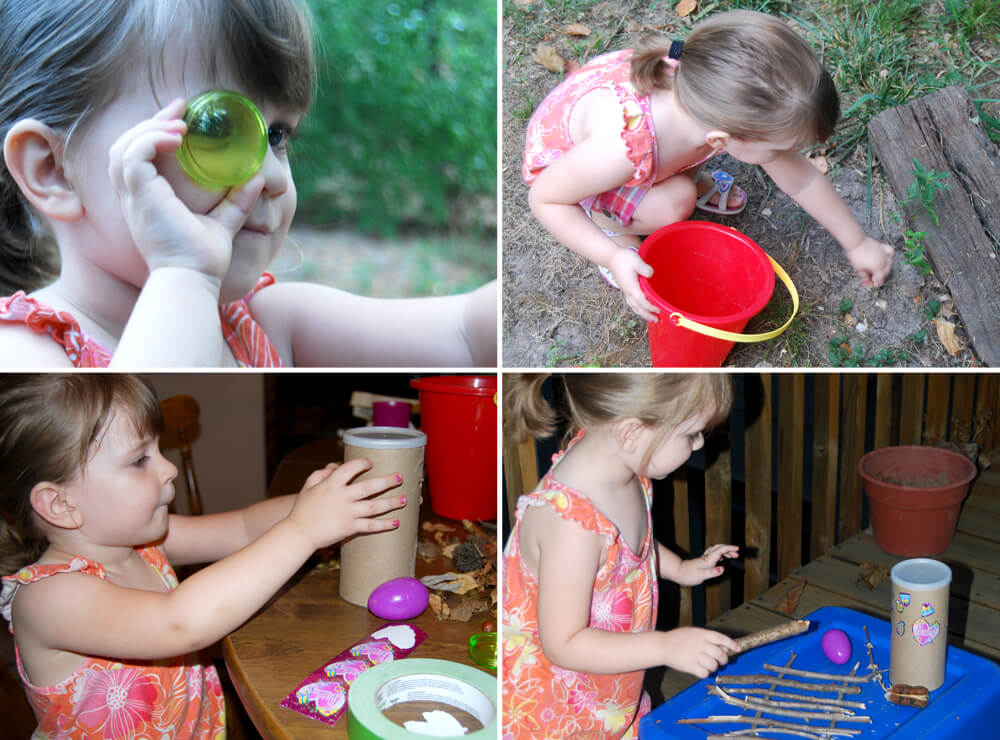 Last week we tried out Gina's idea to make musical instruments from nature. It was 108° outside, so it was a great way to bring a little outdoors inside. We went out for a bit and collected all sorts of fun things to use. This was Juniper's favorite part of the whole project – picking up sticks, rocks, leaves and whatever else she thought was interesting. In fact, she keeps talking about it and she has an invisible list that she 'carries' around our house of all of the things she needs from outside.
Then we came inside and got to work. We made some shakers, a drum, a guitar, and a makeshift xylophone out of sticks. While Juniper decorated her drum with stickers, I made that sweet guitar. It took a while for Juniper to find the perfect object to stick inside the plastic egg, but in the end it was decided that rocks make the best shakers. Then she helped me hot glue a bunch of sticks together to make the xylophone thing. Once we were done we put on a little concert for Daddy on the deck. Song of choice? Definitely Mahna Mahna, it's Juniper's current favorite.