You know what I've been missing a lot lately? Our 365 Days Outside challenge! We went on intermission a long while back, when I started working full time and the days got shorter. (Lame. I hate in the winter how it's already dark when I get home!) We still spend quite a bit of time outside, but lately I've been remembering to take my camera along more often. And do you want to know what I've realized I miss most about this challenge? All of the amazing pictures I was able to take of my kids having a blast outside! Seriously, some of my favorite captures are because of this project.
So I've decided it's time to bring it back. I went through all of my Facebook pictures and whatever is on the memory card currently in my camera and played catch-up. I know I'm probably missing quite a few 'days' but I'm surprised how many there were! We are all the way up to Day 286!!! That leaves 79 more days. In all honestly, we probably won't make it out EVERY day. But if I get to 365 by the end of this year, we will have averaged every other day, and that is still pretty good.
Here is a quick recap of our 'challenge break'. (I've got to warn you, this is a seriously LONG post.) I'll start posting regular updates again next week!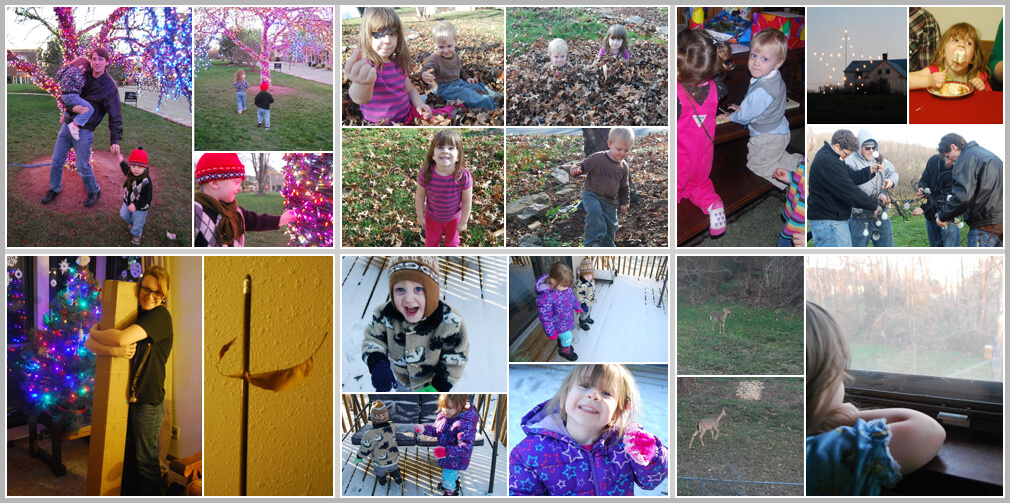 Day 247 – The Magic Tree was our favorite place to visit this past winter! It's hard to capture on camera, but it is just the most amazing thing ever. I love it!
Day 248 – More leafy fun in the front yard.
Day 249 – We went to the farm for Juniper's birthday. All the guys helped set up the giant Christmas Star while the kids played inside. (It was SO COLD!) We got all three birthday buddies together for cake! (Juniper, Opa and Kristen all share a birthday.)
Day 250 – I got a bow for Chrismas! Shaun gave it to me early and I couldn't wait til morning to try it out. We lost one of the arrows in the dark, whoops!
Day 251 – SNOW!! The kids were in heaven, they didn't ever want to come in.
Day 252 – We had a visitor in our backyard today. He was awesome!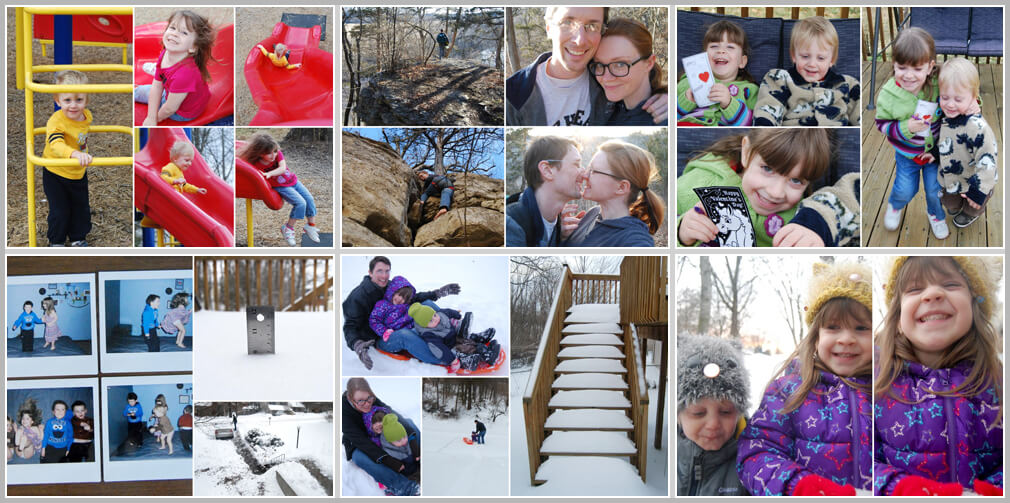 Day 253 – Shaun brought the kids to the park up the road today. Isn't it crazy that she's in a t-shirt and last week we had snow? Missouri weather is so weird.
Day 254 – Shaun convinced me to cut out of work early and go climbing with him.
Day 255 – Making Valentine's Day cards on the back deck and just generally being silly.
Day 256 – MORE SNOW. Like a ridiculous amount of more snow! We had some very cute stranded visitors.
Day 257 – We took the kids out sledding for the first time. They're fans.
Day 258 – It snowed even more, so we've spent a lot of time outside throwing snowballs.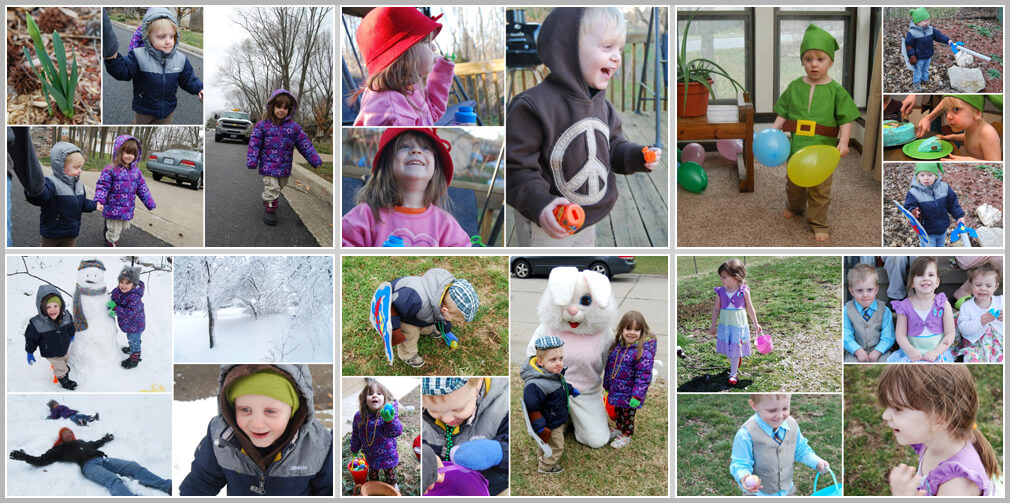 Day 259 – We went for a walk today and saw some signs of Spring!
Day 260 – Bubbles on the back deck is always a fun time.
Day 261 – Flynn got a Link costume for his birthday and won't leave the house without it. (You'll be seeing a LOT of it in the upcoming photos, and yes, he DOES occasionally wear something else! haha!)
Day 262 – HAPPY BIRTHDAY FLYNN! Here is 6 inches of snow to celebrate. In late MARCH! It was crazy.
Day 263 – Our neighborhood always has an amazing Easter Egg Hunt. This year the Easter Bunny made an appearance.
Day 264 – We spent Easter at the farm again. Juniper was concerned that we might be at the wrong farm when there were no eggs on the ground when we first got there. (And can I just say, that girl is so beautiful!)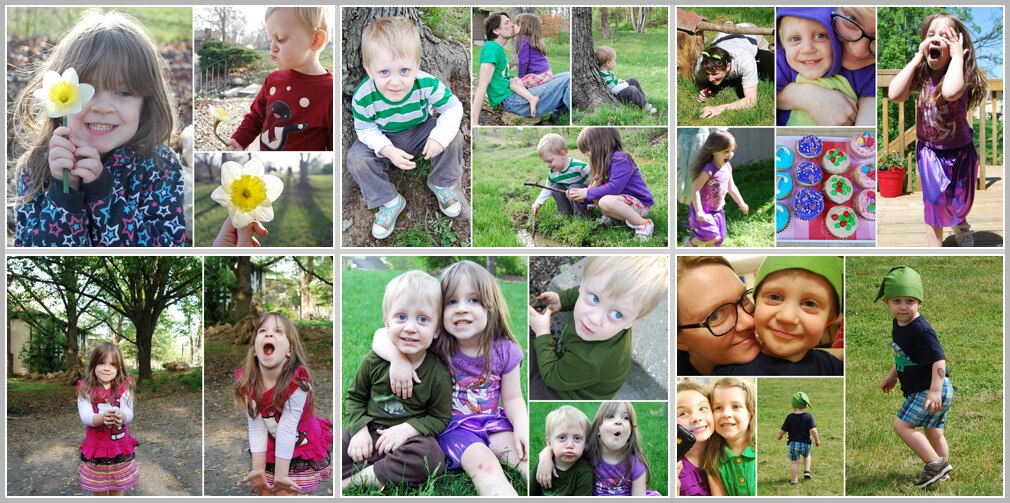 Day 265 – Last week's crazy snow storm didn't end up killing our first flower of spring.
Day 266 – Today was an absolutely perfect day to play outside. Our backyard, rainy day river is one of my favorite things about our yard.
Day 267 – Grand Galloping Gala = Best Day Ever.
Day 268 – You want to know what's fun? Throwing handfuls of helicopters up in the air and screaming "HAPPY BIRTHDAY!!!"
Day 269 – Are these two not the cutest kids ever?? I love them.
Day 270 – Today was the family reunion out in Hermann. Fun times as always.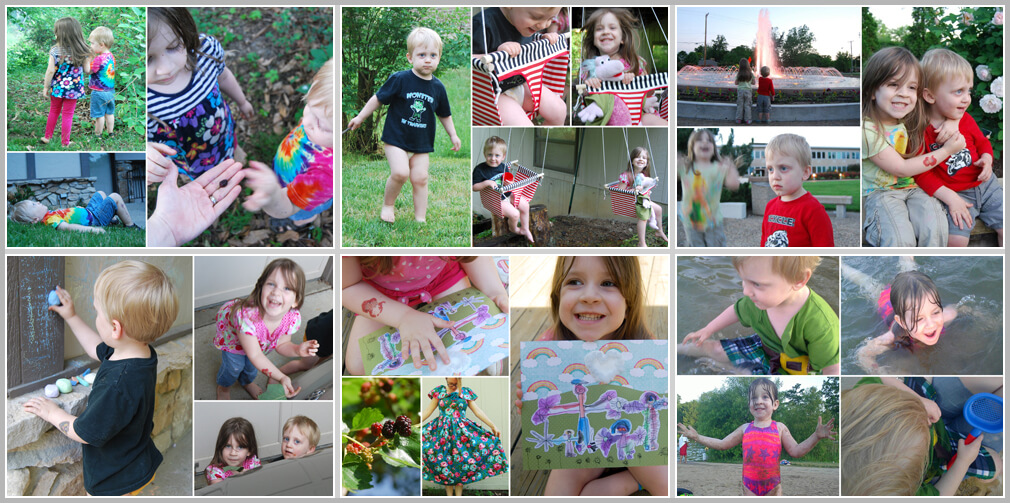 Day 271 – Our mulberry tree is SO close to being ripe, we check on it every day.
Day 272 – I made some swings for under our deck.
Day 273 – I brought the kids to Shelter Gardens today, and we stopped to check out the "water mountain". Juniper LOVED it, Flynn wasn't so impressed. Haha!
Day 274 – When I get home from work, the kids HAVE to hide somewhere and make me find them. Today they were outside when I got home so they hid behind my car.
Day 275 – We took photos of my crazy new dress and Juniper's awesome family portrait today. And picked a couple of ripe berries.
Day 276 – I brought the kids to the lake to cool off.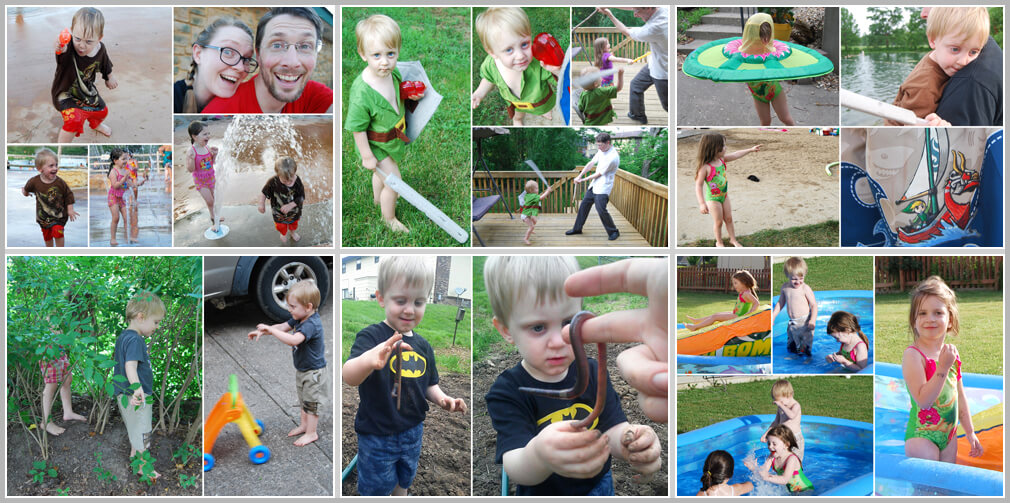 Day 277 – Back to the splash park! This is one of our FAVORITE places to be.
Day 278 – I bought this heart shaped jewelry box at the thrift store, and Flynn has confiscated it. I've got to admit, it does make a perfect Zelda heart container. The kids had a pretty epic sword fight on the deck with Daddy.
Day 279 – Back to the beach we go. The kids got new suits from their Oma. Flynn was upset that his didn't have Link on them… So I fixed them with some iron on transfer paper! Now they are the coolest.
Day 280 – While I did some yard work today, the kids played in the bushes and pushed that silly toy down the driveway a million times.
Day 281 – THE BIGGEST WORM IN THE WORLD!!!
Day 282 – Aunt Shan invited us over for a party today, the kids had fun in the pool.