So, I went to order some proofs of my strawberry fabric but I just couldn't do it! The total was $40, and I only ordered 3 of the patterns. (A yard of one, and fat quarters of two others.) I could just buy the $5 test swatch of each one, but if I'm going to spend the money on fabric, I at least want to be able to make something out of it. Anyhow, Spoonflower has weekly contests and the prize is a $100 shop credit. If I could just manage to win one week, I could proof all kinds of fabric! I'd love to offer my designs for sale, I just wish there wasn't so much of an upfront investment. I need a sponsor, haha!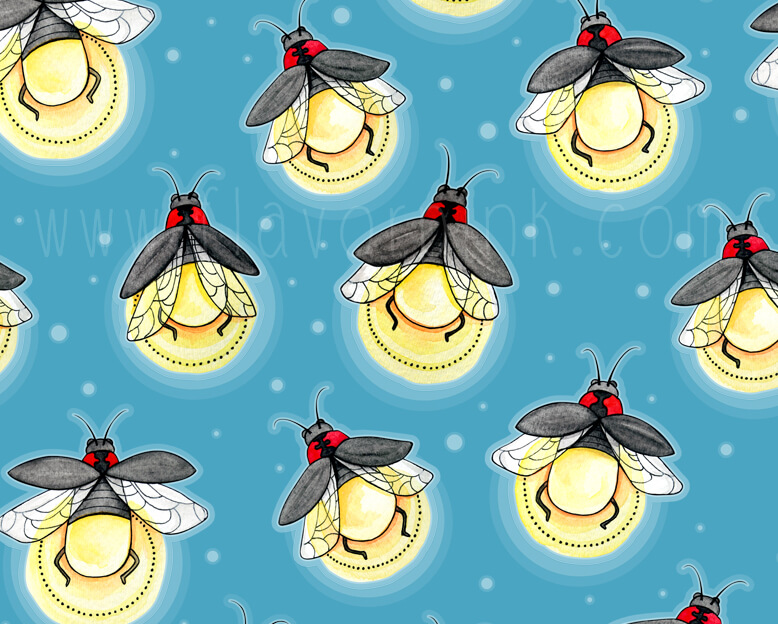 The next contest theme is "fireflies", and I spent all last weekend trying to put together my entry. I like how it turned out, but I don't think it's "aaaaaaamazing" so I'm not really expecting to win this week. I had a lot of fun working on it though. The deadline to enter was yesterday, but I have no idea when it opens for voting. If you have a Spoonflower account and want to give me a vote, I'd very much appreciate it. The next contest that I'm going to enter is called "Pencil Case Cut and Sew" and I MIGHT be just a little bit too excited about my idea. Ok, a lot excited. I can't wait to finish it!
Juniper asked me to draw some fireflies for her to paint as well, and I think hers turned out cuter than mine. I love how she always wants to paint with me. I hope she keeps that as she gets older.