I seem to be in a very easily distracted, scatter brain, rambly mood lately. More so than usual anyhow. If that's even possible! I thought I'd share a few things that are on my mind, to clear some room for more important things. Like finishing up this work before I leave in an hour.

Almost every lunch break this week has been spent cleaning up this painting in Photoshop. It took FOREVER but it looks fantastic so it was lunch break time well spent. (I totally measure how long a project takes in 'lunch breaks'.) AND!! Today I turned it into a repeating pattern!! I am so happy with how it worked out! I'm going to be printing some fabric with this design as soon as I get some money in my fun budget. I've got plans for a pretty awesome dress.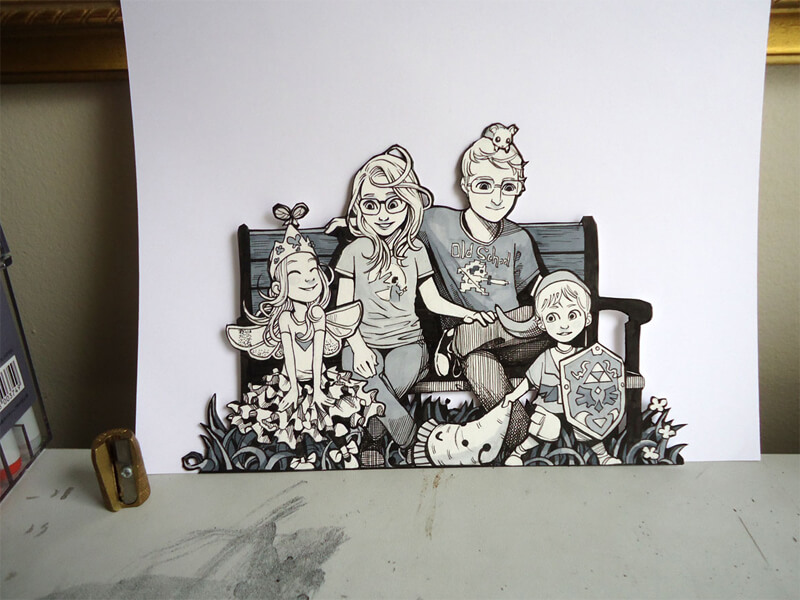 I'm in love with this drawing!! George Alexopoulos emailed me this photo of the finished drawing the other day, and I may have screamed when I first saw it. I'm just so happy with how it turned out. He really nailed the kids, and his line work is incredible. I'm super excited to get it in the mail. I've got the perfect spot to display it. Now I keep thinking of other things I'd like him to draw.

We got a new camera, a little point and shoot, and it's pretty awesome. It has a split screen mode, where you take half of the picture at a time. Needless to say, Juniper and I have had a lot of fun with that. And that CREEPY picture of Shaun and I kills me. I love it.
Also, random, I had a root beer float for the first time in YEARS the other day. I forgot how much I love them.
Happy Weekend!!