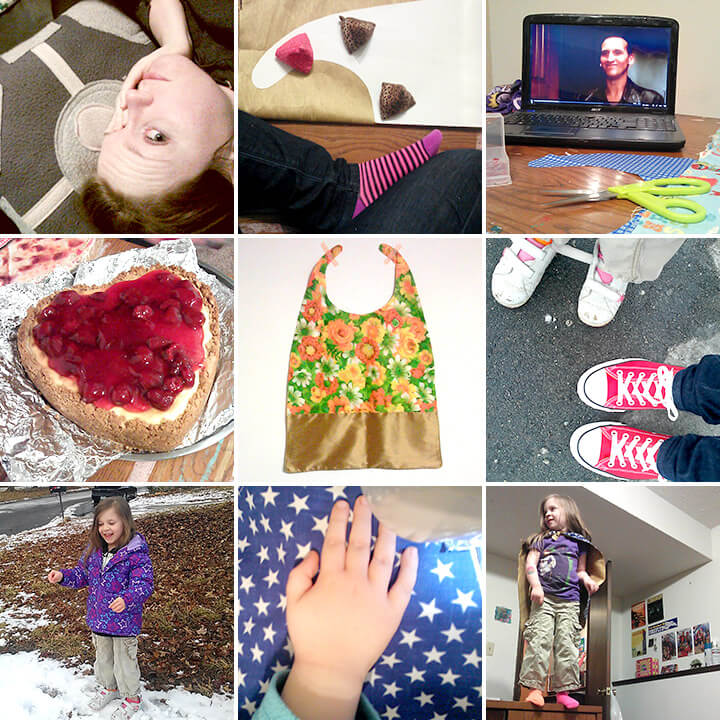 I have been not-quite-sick-but-super-cruddy-feeling for the past two weeks. I'll feel fine all day, and then around dinner time all of a sudden I'll get super congested and tired. It's been annoying. Last Thursday night my throat started bugging me and I lost my voice. Once again though, I felt fine on Friday and ended up having a nice birthday anyhow. I spent Friday morning cleaning up my craft room. (I even vacuumed! Lindsay, you may be the only person who can truly appreciate that, haha!) Then I spent most of the afternoon crafting away. My mother-in-law stopped in for a bit to wish me a happy birthday. I got a super sweet email from a dear friend. And I spent the night sewing capes and chatting with one of my besties while eating some of the best cheesecake ever! It was so so so yummy, AND heart shaped which made it all the better. Everything is better when its heart shaped.
Kristen and I finished a grand total of ONE cape! Hah! But we got five more cut out, and I finished them up Saturday. So now I have six sewn capes and three t-shirt capes. I'll sew one more before I send them off so I'll have reached my goal of ten.
Juniper likes to sit on my lap and 'help' me sew. Honestly, lots of the time I wish she'd just let me do it alone. But then I remember sitting on my own mom's lap and 'helping' her sew, and I let her climb on up. One of my goals this year is to spend more time crafting WITH the kids. I love how they both always want to join me, and I'm working on being better at saying yes.