Day 60
Today was the most beautiful day! It definitely felt like spring!! Shaun took the kids for a walk and the lady down the street gave Juniper some flowers. When I got home from work I think we spent more time outside than we did inside. Right up until bedtime. It was pretty great.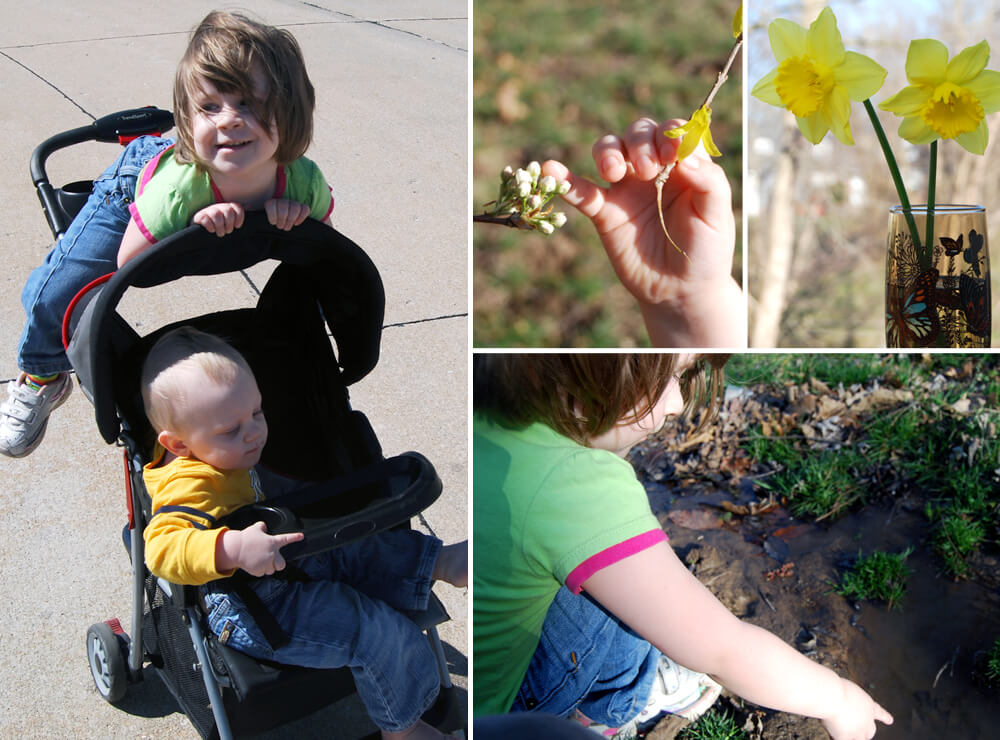 Day 61
Today we did some yard work! We cleaned up our little flower bed, straightened out the bricks and planted some flowers. When I was a little girl I had a flower garden, and I've always wanted to let Juniper have one. She is going to be so proud once they start blooming. Then we went for a quick walk down to the lake before dinner.

Day 62
Juniper and I planted strawberries today while Flynn sat nearby and ate some strawberries I brought home from the store. I really hope they grow and produce fruit. (I don't have a very good history of successful gardening.) Juniper found a seed pod that looked like a piggy nose! Flynn thoroughly enjoyed splashing around in our bucket of water. (He's so glad we don't leave him inside all the time now that it's warm out!)

Day 63
While we were waiting for some visitors, I opened the door to the deck and Juniper ran out screaming "I LOVE OUTSIDE!" and started dancing. That girl cracks me up.

Day 64
Since the weather has been so beautiful this week, my most dreaded time of day has become my favorite time of day. (The kids can get pretty crazy cooped up in the house all evening before bedtime.) We love sitting on the front yard as the sun sets and looking at all of the plants growing around us. I think we might have an apple tree?