Day 90
We had quite a rainy morning today. It rained so much that our little river came back, and stronger than ever! Juniper and I had so much fun sending the boats downstream over and over. There was quite a fast current, so she had to run to keep up. At the other end of our yard, the "river" pretty much becomes a giant swamp. We have a pretty awesome yard.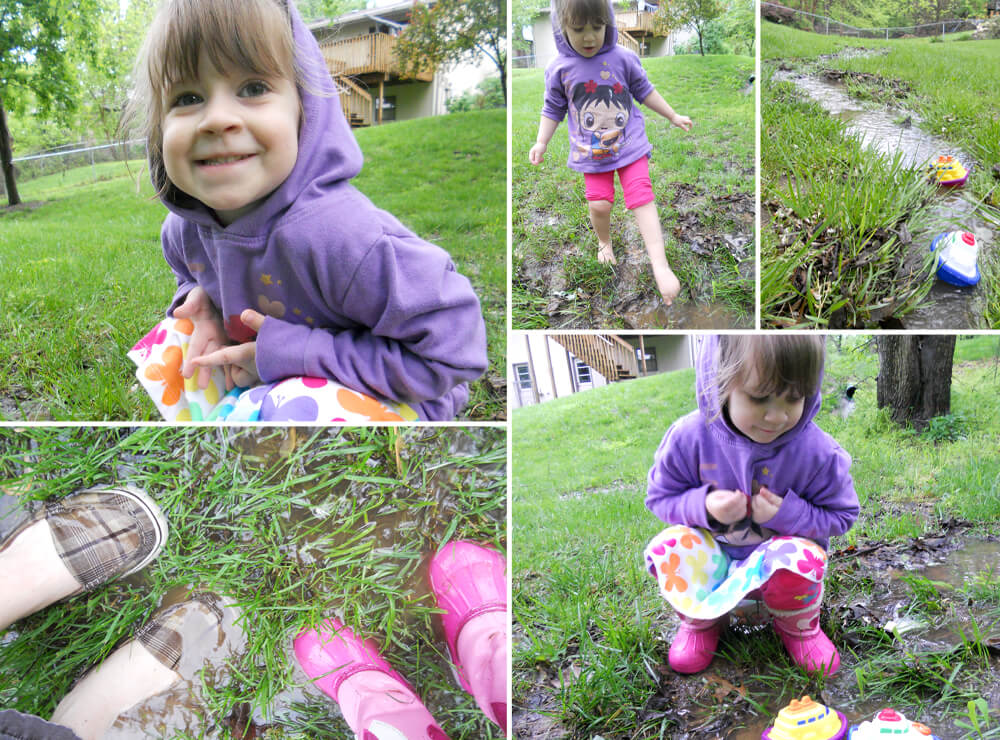 Day 91
Daddy and Juniper spent some time in the garden today during Flynn's nap. Shaun snapped a few pictures on his phone for me. Juniper spent the whole time digging up worms. This was the biggest one she found.

Day 92
We spent a lovely afternoon outside as a family today. We walked around the house and looked at all the new things that have grown. One of our trees has neat flowers! Apparently it is called a tulip tree and I love it. Too bad the flowers are all too high up to admire!

Day 93
Walking around downtown today was so much fun. The weather was nice and we saw lots of interesting things. Like a guy on a unicycle cruising down the road and a couple guitar players jamming on the sidewalk. And look! I got a picture of Flynn smiling!

Day 94
During Flynn's evening nap, Juniper and I spent a little more time out in the garden trying to get it ready to plant. Which of course means Juniper spent more time digging up worms. She is so funny, she had 4 worms in her hand at one point and kept going on and on about how cute they were. She had a mommy worm, a daddy worm, a baby worm, and a grandma worm. She put them back down so they could eat dinner. Dirt, of course.