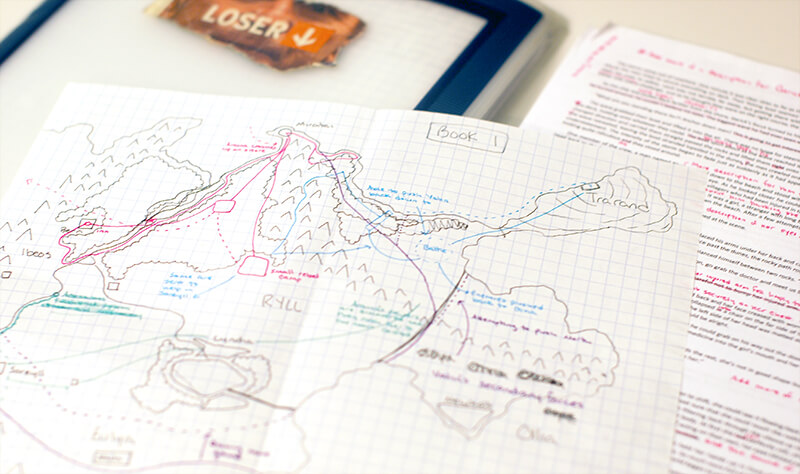 Next month is Camp NaNoWriMo, and I'm planning on joining in again since I had so much fun writing last year. The last time I even looked at my book was in September during my big business trip, when I started editing my first draft on the airplane. I made it through the first 5 chapters on that trip. All the pink ink on those pages makes me smile! Editing is fun!
Somewhere along the way I lost momentum and the project sat on my desk at work, untouched, for months. But all of the emails about Camp NaNoWriMo inspired me to pick it back up and spend another month writing. Last night I sat down and read everything that I wrote last year. Which is a lot! I had forgotten just how much writing I got done!! I started reading/editing on chapter 6, where I left off in September. I stopped editing after a few pages though and basically just resolved to rewrite the entire thing. It's so bad! Well, the story itself is fine. But the writing is so lame. It's definitely very much a first draft. I need to go through and add better descriptions of, well, everything. BUT it's a good skeleton of a story and I'm still happy with how it is coming together.
So I was feeling pretty disappointed in my writing until I got to chapter 17. Apparently towards the end of NaNo last year I finally got into a good writing rhythm and wrote some pretty great stuff! The first section of chapter 17 alone has got me super excited to start writing again. And if I can manage to get the rest of the writing up to that level, I may even let someone else read it someday!
My goal for next month is to write another 30,000 words. I'll be picking up where I left off and attempting to make it to the end of the story. I would also like to fill in the spots in the story that I skipped over last year. I'm going to save all of the rewriting until I finish the book. (And there will be a LOT of rewriting.)
I suppose eventually I'll have to come up with a name for my book……..